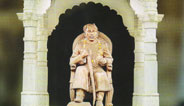 Udaipur, the Venice of India, was laid out in 1559 as the capital of Mewar. It is a marvelously pictures que city. "There is nothing" remarked the noted celebrity of the elite world, the then Prince of Wales while on his visit here in the year 1921,"between Madras (now Chennai) and the Northern Passes like Udaipur". Being well marked on the international tourist map it is well connected by air and by land.
"Our motto is to inculcate those skills in students which will make them shining stars in the galaxy of competitive arena."

read more...
Bhupal Nobles' Riding Academy

Tired of working for organizations that don't have interesting work, people or ideas?

Interested in performing & applying your Organizational & Human Resource Development experiences toward improving human performance in the workplace?

Looking for a satisfying professional experiences?