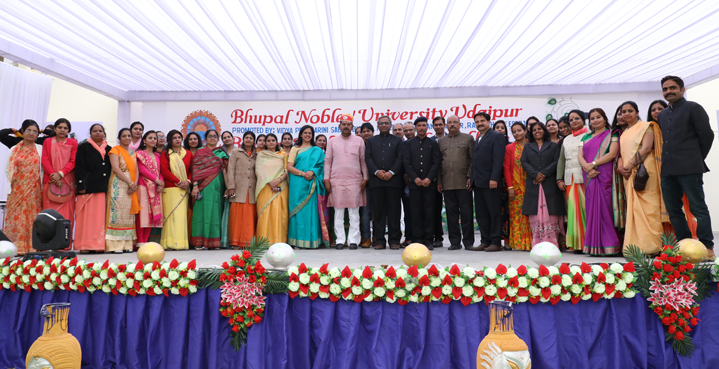 Mission & Vision
To be a leading centre of women education by building a tradition of innovation in order to meet the changing needs of the society.
To enhance expert experiential learning opportunities.
To provide a vibrant and diverse learning community where talented women can grow intellectually and individually.
To excel in teaching and create a student focused learning environment where science, humanities, social sciences, management and commerce lay a foundation.
To inculcate competitive spirit and focus on acquisition of intellectual abilities.
To educate women to earn international and national recognition as effective professionals, leaders and service oriented citizens.
To learn sustainability at local, national and global level through productive quality output.
To promote the values of harmony, mutual tolerance and nobility.
To encourage the all round development of personality by ensuring active participation in sports, literary, fine Arts, cultural and other curricular activities.
To attain the best optimum level of knowledge and wisdom by integrating "modernity" with "tradition".
To be a model women institution of learning where fleet of young women is developed as human resource in response to the needs of the community.
To be achievers in multi-disciplinary and inter-disciplinary professional fields through skill development courses.

The establishment of B. N. P.G. Girls' College has proved to be a silver lining in the horizon of the patron institute Vidya Pracharini Sabha. In this new academic session the college commemorates yet another year of fruitful service in the cause of girl education.

Started as a sapling in 1995 with Under - Graduate faculties of Arts and Science in first year with 252 girls in the old school building, the college has expanded itself into a huge banyan tree with a double storeyed building of its own and a strength of 1417 students in the last academic session becoming the largest college in the state of Rajasthan.

Adolescence is one of the most crucial phases of life. Under the direct surveillance of parents and teachers in school a student follows a disciplined life. But as he enters the college life he finds himself free from all the shackles and do's and don'ts. During this phase of freedom and self dependence he can either choose the path of prosperity or divert himself on the path of waywardness. But at Bhupal Nobles' P.G. Girls' College every faculty member acts as a companion, guide and counselor.

Here the girls attain knowledge in the fields of humanities, science, social sciences and commerce at the graduate and post-graduate level. This college also ensembles a spectrum of new emerging fields of career options like computer technology and business management. The college provides facility of campus recruitment whereby students get placement in national and multinational firms and companies like Wipro, Infosys, Reliance etc. An integral part of education in this college is the development of individual personality by way of co-curricular and extra curricular activities in the fields of art, music, dramatics, public speaking, games, sports and other outdoor activities.The college has successfully maintained its high academic standards with 98.78% results all through and with its students securing merit positions at the university level & also other examinations such as C.A., C.S., R.A.S. & I.A.S.