About Waiariki
A dedicated learning Environment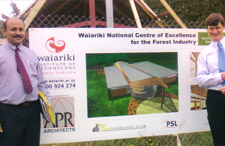 Waiariki Institute of Technology is a government owned institution specialising in applied vocational training. Waiariki is one of New Zealand's largest provincial institutes with around 9,000 students that includes 320 international students. Wairaki offers a very supportive learning and interactive study environment with quality programmes available in range of disciplines. The institute has recognised academic achievements. A range of popular study options are available to international and migrant students such as English language, Foundation, Nursing in New Zealand, Study tours, Tourism, Hospitality, Automotive, Engineering and IT/Computing. Waiariki has a range of qualifications at certificate, diploma and degree level.
NZQA Accredited
All the listed programmes have been approved and accredited by the New Zealand Qualification Authority(NZQA). Accreditation means that Waiariki's internal quality systems have been independently evaluated to check that the delivery and quality of our programmes that meets approved national standards.
A World Famous Destination
Rotorua and its surrounding regions have unique geographic features and facilities making it an excellent place to study. The city has something to offer everyone from cafes and restaurants, cultural experiences, geothermal explorations and sight-seeing. For the more adventurous, luging, zobing, biking, hiking kayaking and water skiing are just some of the many activities available.
Great surf ski fields, islands, waterfalls, wineries and historical places can be experienced within a short distance of Rotorua. The city is host to world-class events and provides an active recreational environment outside of study. Rotorua offers an exciting, affordable lifestyle with mild New Zealand temperatures year round.
Study tour
Short or long term study tour programmes are available throughout the year. Ideal times for these are from November to March (summer) and July to October (mild spring temperatures). There can be English lessons in the afternoon. Tour activities can be tailored to suit your group's requirements.
International Student Support
Waiariki International Office handles all the international student's enquiries, applications, visa/permits, accommodation and airport pick-up. It also provides support and assistance to student during their time at Waiariki NZ.
Applying to study at Waiariki
To apply for any programme of study at Waiariki students must be 17 years when it starts. However, some programmes may have other specific minimum age requirements (e.g. nursing) more details about entry requirements are available on
www.waiaraiki.ac.nz
or from the International Office. All original Academic or personal transcript need to be included with the application form, as well as evidence of English competency for mainstream programme applications.
Mainstream Programmes
Waiariki accepts IELTS and the Waiariki level Test results as verification of English competency.

1
Send your application to the International Office with your original academic transcripts and personal documents, i.e., passport and birth certificate (DOB).
2
If your application is successful you will be sent a Letter of Offer.
3
To accept your place on the programme you will need to send your full payment of fees to the international Office.
4
Confirmation of enrolment will be sent to you. A copy will also be sent to the New Zealand Immigration Office so you can obtain your student visa. This process may take up to six weeks.
Kia Ora!
Welcome to a fresh approach to your life!
It seems that everyone is locused on getting more education so they can get better jobs. At Waiaraki we understand that but we offer more.
A Waiariki education delivers skills and at the same time encourages you to unleash your full potential-to come alive as a person.
We'll provide you with real, tangible life enhancing experiences. We'll help you to make discoveries, build friendships and through our flexible range of short, part time and full time courses, secure the most appropriate qualifications, no matter who are you or what you want to do.
Waiariki – commites to helping you get the best out of life. Doing everything we can to help you to be better prepared to tackle all of life's challenges.
So, welcome to one of New Zealand centers of educational excellence which just happens to be situated in four spectacular location amidst lakes, foresta and mountains.
We Look forward to seeing you here!
The Code of Practice
Waiariki is a signatory to the Code of Practice for the Pastoral Care of International Students. To find out more about the code contact our International Office or download a copy of the code from our website
Service and Facilities
Waiariki offers free on-campus health and counseling services for Students. Other facilities include; students job search, student union, Learner support, Computer laboratories, library, bookshop, cafeteria, on campus public transport access and car parking.
Home Stay Experience
Home accommodation, where students live with a New Zealand Family, is a fully accredited accommodation option. All home stay families are bound by the Code of Practice, have undergone police clearance and have been interviewed by Waiariki to ensure they meet the requirements of hosting students. Home stay is an ideal way for new students to adjust it their new cultural environment. Home stay charges include meals and laundry services. Transport to Waiariki can be provided by home stay families at an additional cost.
Hostel
Hostel accommodation is an ideal way for students to experience College life in a multi-cultural setting. Hostels used are fully accredited accommodation.
Medical Insurance
Student visa holders are required by the New Zealand Immigration office to obtain medical insurance while living in New Zealand. Wairiki includes the unicare Medical Insurance changes in your invoiced fees.
Benefits
Eligible students can now apply to work up to 20 hours in any given week during the academic year. Students undertaking a course of 12 months or more may work full-time over vacations. International Students, who have graduated from a course in New Zealand that would gain points under the skilled migrant category, could apply for a size-months open work permit.
Services & Facilities
Waiariki offers free on campus health and counseling serviecs for students. Other facilities include; students job searcj, student union, learner support, computer laboratories, library, bookshop, cafeteria, on campus public transport access and car parking.
Waiariki accepts IELTS and the waiariki Level Test result as verification of english competency.